Dr. Bruce Mattson nd his students developed interesting, safe and convenient methods for generating and manipulating small samples of gases for classroom demonstrations, laboratory experiments and study. We have developed classroom demonstrations and laboratory activities suitable for use at a variety of levels ranging from the middle school and high school levels up through university-level freshmen chemistry students and chemistry majors taking descriptive inorganic chemistry. The results of this work have been published in a series of articles in Chem13 News, the Journal of Chemical Education and in two books. All together over 150 experiments have been devised for the a variety of gases including CO2, H2, O2, N2, NH3, NOx, C2H2, H2S, SO2, Cl2, HCl, CO, C2H4, CH4, and N2O. A Web page is available.

For the past decade, our focus has shifted to our "gas reaction catalyst tube" developed with students here at Creighton. The current version of the catalyst tube consists of a small glass tube (6 mm diameter x 10 cm) containing ~ 1 mg nanoparticle palladium on alumina support. Always with undergraduate research students, we designed, developed, and published a series of articles on gas-phase catalytic reactions. All along the way, the design of the catalyst tube improved and now can be constructed for about $2 and used indefinitely.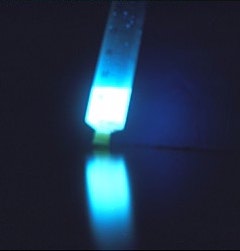 Time exposure of the chemiluminescence reaction between luminol and oxygen in aqueous KOH.



2017: U-shaped catalyst tube containing 0.5% nanoparticle palladium on alumina beads. Pictured here in a water bath.