Dr. Bruce Mattson is currently interested in developing and establishing safe and convenient methods for generating and manipulating small samples of gases for classroom demonstrations, laboratory experiments and study. Along with undergraduate students performing the research, we have developed classroom demonstrations and laboratory activities suitable for use at a variety of levels ranging from the middle school and high school levels up through university-level freshmen chemistry students and chemistry majors taking descriptive inorganic chemistry. The results of this work have been published in a series of articles in Chem13 News, the Journal of Chemical Education and in two books. All together over 150 experiments have been devised for the a variety of gases including CO2, H2, O2, N2, NH3, NOx, C2H2, H2S, SO2, Cl2, HCl, CO, C2H4, CH4, and N2O. A Web page is available.

A book, titled, Microscale Gas Chemistry, co-authored with Michael Anderson and Susan Mattson, is available from Educational Innovations. It is now in its fourth edition and consists of step-by-step procedures (repleat with line drawings) for use by high school teachers and students. The book features an excellent pedagogical section for each experiment, including teaching tips, questions and answers.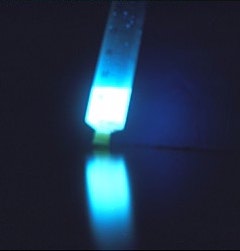 Time exposure of the chemiluminescence reaction between luminol and oxygen in aqueous KOH.